Guest post from super down-to-earth miss Sophi! I hope you all are having a great week! Back soon.
-----------------------------------------------------------
I have a new roommate this quarter, and today she asked me how it was that I manged to have on a thought-out outfit every day. My secret? I plan a good part of it the night before. Since Chelsea was kind enough to ask me to guest post this week, I thought I'd share with all of you my particular method for planning an outfit using today's ensemble as an example.
shirt: thrift -- blazer: thrift -- shoes: thrift -- tights: We Love Colors -- skirt: thrift
I always start by checking the weather. Today's forecast? Sunny with a high of 56 and no chance of rain. So what does that mean for my outfit? Suede shoes are a go, and no need for a rain-friendly coat.
The next step is to pick some sort of limiting factor. Sometimes I pull from recent inspiration, sometimes I build an outfit around a recent purchase, and sometimes I build an outfit around a particular garment I feel like wearing. Today, my main goal was to avoid the colors red and blue. Looking back at my blog, I realized that I've been wearing red or blue (or both!) in every single solitary outfit for quite some time, so I wanted to force myself to branch out.
Next, I figured out if I wanted to wear separates or a dress. I wasn't feeling any of my dresses, so I settled for separates. I like to save pants for lazier days, so I opted for a skirt. I tend to wear pretty basic skirts, so I decided to pick my top first.
I have this great western shirt that I don't wear nearly as often as I should, so I pulled that. It's a nice piece because it matches any neutral color you can think of. Today, I decided to pair it with a simple black miniskirt to balance the volume and detail of the shirt.
Now the fun part: jazzing it up a bit! I just got some new tights, and I've been eager to find a way to wear them. They're an odd brownish-purplish color, which happens to be a perfect match for the western blouse. Now it was time to pick out shoes. I couldn't decide last night, so I pulled a few pairs of shoes off of my shoe rack for experimentation in the morning.
After a few misfires, I opted for my Wallabee wedges. They're a little chunky and a little bad-90s, but the western shirt balances them out nicely. With my shoes all picked out, I selected a belt. I tried on a couple of statement belts, but decided that with the weird tights, chunky shoes, and detailed shirt, simplicity was key. A plain black suede belt brought it all together.
Choosing an outer layer is my least favorite part of getting dressed. I hate how blazers and coats hide tops, and it's always so difficult to find one with just the right proportions for the outfit you have on. This black velour blazer is a good fit for this outfit because it doesn't compete with anything and still shows off the funky western blouse. I threw on some earrings, and I was good to go!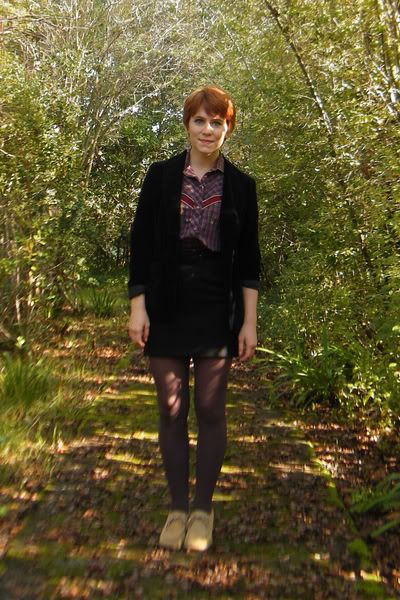 I hope you enjoyed this little glimpse into my outfit methodology :) Be sure to stop by my blog oh so sophi for more outfit posts, art photography, and occasional musings about my life.
Today's song title comes from More Than Love - Ian McFeron.